Tracy
| | |
| --- | --- |
| Status: | Available |
| Experience: | 20+ years |
| Attributes: | Eclectic Pagan |
| Specialities: | Tarot Lenormand Oracle |
| Languages: | English |
| Member Since: | Jan 2015 |
| Avg Response: | 15 hours |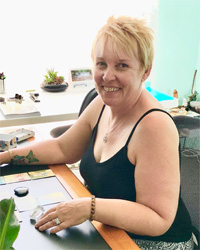 | | |
| --- | --- |
| Status: | Available |
| Experience: | 20+ years |
| Attributes: | Eclectic Pagan |
| Specialities: | Tarot Lenormand Oracle |
| Languages: | English |
| Member Since: | Jan 2015 |
| Avg Response: | 15 hours |

So why have a Tarot Reading?

This is a good question, as there are quite a lot of Free Tarot Readings and other type of psychic services available for free. But the old adage You Get What You Pay For, has never rang truer then ' Free Readings". Most if not all are computer generated, or are by people who have no skills and are just looking up the meanings in a book. Building a reputation as a honest Tarot reader is really hard, and one of which I have been working on for the last 20 years. Unfortunately there are many dishonest people in this industry, only in it for the money and taking advantage of peoples misfortune, this makes it incredibly hard for us genuine readers. So if someone tells you that you have a curse over you, keeps asking you for more money to get rid of said curse, or just gives vague answers with the promise of more answers if you just "buy another reading" RUN! They are not genuine or honest.

So back to the question, without a doubt people get a reading done when they are at some sort of crisis, or, crossroads in their lives. This can be anything from the fear of changes at work, a divorce, the intentions of someone towards them, if they should retire, and the list goes on and on. Truly most people come to me when they have reached the end of their tether, and want a unbiased opinion on their area of concern. Friends are great but are biased towards you, they will hold back not wanting to hurt your feelings, I won't hurt your feelings, but at the same time I am not a cupcake reader. If you ask me about a potential situation and I see some shiftiness going on, or a hidden agenda, I will tell you, but with kindness and empathy. There is a saying "If you don't want to know, then don't ask the Tarot"

Once you have received your reading with me it doesn't just end there, I expect and welcome follow up questions on the actual reading you have had. Not another question all together, but ones that pertain to the reading itself. I should also mention that no reading is written in stone, you can change the path you are currently on. Tarot is a tool showing you what MAY happen if you choose to stay on your current path at the time of the reading. After all its the choices we make, not the chances we take, that determine our destiny.

I do not do health readings, please see a Medical Practitioner. Nor do I answer questions like when will I die? Or when will I win the lottery? Plus the old has my husband/wife etc cheated on me?

I look forward to consulting the Tarot, Lenormand or Kipperkarten for you!



Feedback, I have intentionally not put a name next to these to protect privacy, feedback means the world to me and always makes my day!

"Thank you Tracy! You've definitely gave me some food for thought!"

Thank you so much - this is exactly my thoughts entirely. I can't say too much now but you have made perfect sense. Thank you ❤️"

Thank you so very much, you are amazing."

I have put together some reading packages covering topics that I specialise in. Some may also include additional, and unique, methods that I use in my readings. Click on a package to find out more about it.
I will read spreads created by you using our Digital Tarot Deck. Click the button below for a list of the spreads I would be happy to read for you
Tracy's Testimonials
If you have had a reading from me I would be very grateful if you could tell others about your experience here.
We previously used Facebook Comments for testimonials from clients.
Please use Disqus above if you want to leave a testimonial as we are phasing out the use of Facebook's system.
Nataliya Tokar

it took me some to digest what she were saying, but I got it. Every thing she said happened and still going on. Now I know I made a right choice. I got good advices and chance to see a situation from different point of view. Thank you very much.
Apr 21, 2017 4:04 am

Tu Quynh

Amazing reader that her predicted last time so right . I came back today for more! Must try her you will love her! Thank you Tracy so much
Jul 15, 2016 8:07 am

Vivie Cong

Tracy is the best! She is so passionate and giving the best best insight for me. She is so tune in with my situation. I'm so grateful to her reading
May 16, 2016 7:05 am

Mary Kuntz

Tracy is truly amazing. She was able to give me an accurate interpretation of what is going on in my life.
Nov 16, 2015 3:11 am

Sernise O'Neal

Thank you Tracy...the reading was very helpful.
Jul 17, 2015 1:07 am