Queen of Wands/Rods Tarot Card Meaning & Interpretations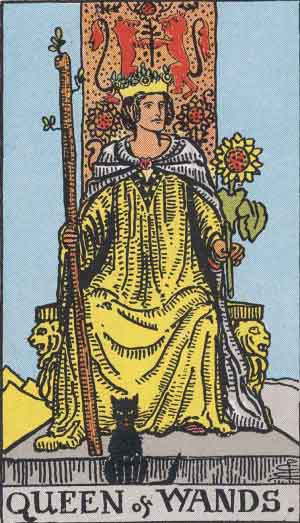 Court cards, like the Queen of Wands, are unnumbered which makes using numerology to unlock their basic symbology a trickier exercise. On the surface we have the female ruler of the elemental domain of Fire but not much else to go on. We can however link Tarot's Queens to their supreme ruler, The Empress, which would give her a numerological attribute of 3 by proxy. The combination of this element and numerology point to self expression through creativity.
The Queen of Wands, Queen of Rods or Queen of Batons can be a house wife, a home maker or someone who loves creative domestic work such as baking, cooking, needle work or someone who loves working outside with nature such as gardening or having an orchard. She may be practical, warm, fiery, creative and very sexual. Her vocation in life may be related to the element of fire or wands, she could be a potter (kiln), an architect, gardener or landscaper.
© Phuture Me Ltd 2010-2018. All rights reserved.
THE PICTORIAL KEY TO THE TAROT
By Arthur Edward Waite (1911)
The Wands throughout this suit are always in leaf, as it is a suit of life and animation. Emotionally and otherwise, the Queen's personality corresponds to that of the King, but is more magnetic. Divinatory Meanings: A dark woman, countrywoman, friendly, chaste, loving, honourable. If the card beside her signifies a man, she is well disposed towards him; if a woman, she is interested in the Querent. Also, love of money, or a certain success in business. Reversed: Good, economical, obliging, serviceable. Signifies also--but in certain positions and in the neighbourhood of other cards tending in such directions--opposition, jealousy, even deceit and infidelity.