Aya 
| | |
| --- | --- |
| Status:   | Available |
| Experience:   | 14+ years |
| Attributes:   | Sagittarius |
| Specialities:   | Tarot, Akashic Records |
| Languages:   | English |
| Member Since:   | Jul 2012 |
| Avg Response:   | 23 hours |
| Local Time:   | |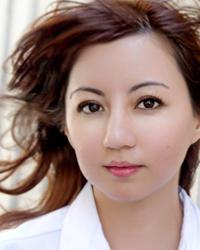 Status:  
Available
Experience:  
14+ years
Attributes:  
Sagittarius
Specialities:  
Tarot, Akashic Records
Languages:  
English
Member Since:  
Jul 2012
Avg Response:  
23 hours
Local Time:  

I was born in Japan and raised in Hawaii. Born of artist and spiritual parents; my father a Zen Buddhist priest and mother a gifted healer, who enrolled me in a Christian school, I was surrounded in an environment that nurtured a deep need for reflection, self-expansion, and higher levels of knowledge. I am currently pursuing my passion for spirituality and acting in Los Angeles, California.

Growing up, I had always known the power of prayer which I have come to also see as the power of intention. There were numerous experiences sensing ghosts, reading the energy in the room, knowing what has just happened and sensing past loved ones.

As an Intuitive and empath, I went through struggles of self-doubt and many traumatic experiences. In my late teens, I picked up my first tarot deck to help me through understanding life, love and other tough situations. It expanded my world from Christianity to include the Metaphysical and other modes of self-empowerment. I love to work with Angels, Ascended Masters, spirit guides, and spirit animals. I really believe that God/Angels/Higher Power is trying to guide us daily, we just have to listen. Somehow they will always find a way to reach us.

To Prepare for your Reading:

Take a deep breath, release any tension, and open your heart. It may help to have your feet flat on the floor to ground. Most importantly be comfortable! This is your special time to connect to the loving guidance and wisdom of your Masters, Teachers, and Loved Ones. 

Prepare questions for your session. Think of any area in your life that doesn't seem to get better with time, any place of concern where you thought you had it but ran into a wall. It helps to have questions that start with What, How, Why particularly with the Akashic Records. 

Know that the future is not set in stone. We light beings exist with the freedom to choose, a soul blueprint, and many other variables. The cards and Records can only show us what is of the highest probability dependent on these certain variables. This is why the most helpful questions are not to predict, but to explore our best options to enable us to create the results we want. It takes action and it takes vision. We are creators; that is our most special gift!

I am an Advanced Certified Practitioner of the Akashic Records. For me the cards are not a way of fortune-telling, but a way to facilitate your personal growth and enrich one's life. I use the cards to uncover soul-level truths so that you may gain the clarity and information you need to direct you towards your path of higher self and healing.

I have put together some reading packages covering topics that I specialise in. Some may also include additional, and unique, methods that I use in my readings. Click on a package to find out more about it.
I will read spreads created by you using our Digital Tarot Deck. Click the button below for a list of the spreads I would be happy to read for you
Aya's Testimonials
If you have had a reading from me I would be very grateful if you could tell others about your experience here.
We previously used Facebook Comments for testimonials from clients.
Please use Disqus above if you want to leave a testimonial as we are phasing out the use of Facebook's system.
Susan Shaffer

Aya was wonderful. She gave me clear direction and was very accurate in her reading. She encouraged questions and was very helpful with the direction I need to go. Aya, BTW. He is a prince by birth but hardly anyone knows this here so Alladin was very appropriate for him. God does have a glorious sense of humor. Keep up the good work. You make such a difference in this world with your gifts. Stay true to yourself. Namaste.
Aug 20, 2013 11:08 am

Roberto Lisi

Kawaii! You did your ultimate best, and I'm truly grateful to you anyway!
Jul 24, 2013 6:07 pm

Kimberly Tieuel

She is very intuitive..I loved that she was willing to answer my questions. She understood my situation pretty well. I recommend her for a reading
Jul 07, 2013 10:07 pm

Olivia Lassiter

last message really helped I need all the help I can get I'm goin to take your advice thanks alot!
Jul 04, 2013 6:07 am

Melody Driever

Aya, Thank you so much for your reading and you were so right on. You are truly gifted and I for one am thankful that you shared with me. I made my decision with conviction... and WE feel good, positive, excited and calm about the future. Out of chaos comes conviction and hope. Yay!
May 02, 2013 9:05 pm

Jason Rodriguez

Maya I've been through some heartache and been through some psychics and tarot readers but you by far bypass them! Your reading was insightful and your inter orations and advice left me feeling so much better emotionally and more confident in myself. And yes the funny thing is I LOVE Korean dramas will be checking those two you suggested. Thanks again for everything!
Feb 10, 2013 5:02 pm

Winnie MacDonald

Aya's reading was great. She really hit home with it and had a good grasp of who I am as person. Thank you!
Sep 14, 2012 2:09 am