May
| | |
| --- | --- |
| Status: | Unavailable |
| Experience: | 8+ years |
| Attributes: | Taurus |
| Specialities: | Tarot |
| Languages: | English |
| Member Since: | Jul 2016 |
| Avg Response: | 20 hours |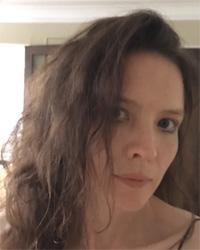 | | |
| --- | --- |
| Status: | Unavailable |
| Experience: | 8+ years |
| Attributes: | Taurus |
| Specialities: | Tarot |
| Languages: | English |
| Member Since: | Jul 2016 |
| Avg Response: | 20 hours |
May is unavailable at this time for new reading requests.
Click on the button below to be notified when May becomes available.
Request Notification

My aunt, who taught me tarot, had a doppelganger theory for why tarot works. Less dark than how many people interpret that word, I like the following: Whether you see it as everyone has a spiritual double, or an altar ego, or a ghostly counterpart of a living person, the idea is that there's web of energy that connects you to your invisible twin self. This 'twin' can be accessed for information. Depending on what you believe, your cosmic twin dances with your higher self, your guardian angel, or an ever-shapeshifting pattern of cosmic or divine energy. If allowed, it resolves darker energy that often comes out in daily struggles, and as many of us go through periods where we battle our darker selves more often, the common usage of 'doppelganger' oddly meets it halfway. I find the energy that drives the Universe benevolent and caring, and tarot remarkably seems to speak its language when it becomes a bridge to find each person's twin.

I use the cards as stepping stones to help me get beyond the feeling/tone you were in when you asked your question. Then I greet a client's energy field which shows up as their love relationships, both present and future, exigent and otherworldly. This field holds love relationships and human interactions of all kinds. So one's challenges with other challenging humans are here, as well as solutions. Often the things that a client feels are negative and fixed about their situation can easily be shifted, and tarot is very effective because it can be coaxed to reveal light and dark. I do like to give practical real-world advice, but I also have a huge sense of humor about the bizarreness that often enters the reading through this type of source energy.

I'm an Intuitive who uses channeling as a way to center myself; this makes for a helpful, life-giving vibration that in turn revitalizes the client. I'm not terribly preachy in my reading style, but am very comfortable working with everything from black and white questions to a more fluid, everything-but-the-kitchen sink channeled reading. I'm a spiritual person, non-denominational, liberal minded, tolerant, and interested in a diversity of client energies! I'm also an anusara yogi, who does Cranial Sacral Therapy and reiki.

I'm very open to reading from your own tarot deck, as well as out of my own personal collection for the three packages I offer.




I have put together some reading packages covering topics that I specialise in. Some may also include additional, and unique, methods that I use in my readings. Click on a package to find out more about it.
I will read spreads created by you using our Digital Tarot Deck. Click the button below for a list of the spreads I would be happy to read for you
May's Testimonials
If you have had a reading from me I would be very grateful if you could tell others about your experience here.
We previously used Facebook Comments for testimonials from clients.
Please use Disqus above if you want to leave a testimonial as we are phasing out the use of Facebook's system.
Pam Hester

An excellent, beautiful, derailed reading. Highly recommended.
Sep 06, 2016 4:09 pm

Elspeth Mackie

May gave me a detailed and very thorough reading using only 4 cards. Her comments were very insightful and accurate when discussing my question and made me consider some new and different aspects about my relationships. Her report was detailed and informative and was clearly written. I would recommend a reading with May.
Jul 30, 2016 8:07 pm