Tracy
| | |
| --- | --- |
| Status: | Available |
| Experience: | 20+ years |
| Attributes: | Eclectic Pagan |
| Specialities: | Tarot Lenormand Oracle |
| Languages: | English |
| Member Since: | Jan 2015 |
| Avg Response: | 15 hours |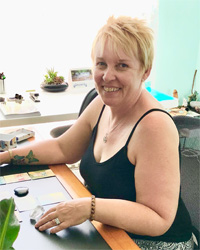 | | |
| --- | --- |
| Status: | Available |
| Experience: | 20+ years |
| Attributes: | Eclectic Pagan |
| Specialities: | Tarot Lenormand Oracle |
| Languages: | English |
| Member Since: | Jan 2015 |
| Avg Response: | 15 hours |

♥ When To Have A Tarot Reading

• To gain some perspective on a situation, whether that be on changing jobs or re-locating to another area.

• To get an unbiased opinion from someone who has no vested interest in what decision you make.

• You are just curious about what the cards will say.

• You are having a hard time making a choice, and would like a fresh pair of eyes to gain a different outlook on your situation.


♥ When Not To Have A Tarot Reading

• If you haven't got an open mind towards Tarot.

• Asking questions like "will I ever find love" no you won't, unless you love yourself first. Because how can you expect someone to love you unconditionally, when you do not give yourself that same honour and respect that you are asking from in a partner?

• When you are emotionally upset, take a day or two to calm yourself down.

• Questions concerning your Health, including Mental Health. Please see a qualified Medical Practitioner, I do not under any circumstances read on Health issues.

I should also mention that no reading is written in stone, you can change the path you are currently on. Tarot is a tool showing you what MAY happen if you choose to stay on your current path at the time of your reading, a good Tarot reading should also provide some insight on how to change your life path, if you are not happy with the way it is currently headed, the choice is yours and yours alone.

Let me show you how Tarot can enlighten your way, so that the choices you make, and not the chances you take, determine your destiny.



Feedback, I have intentionally not put a name next to these to protect privacy, feedback means the world to me and always makes my day!

"Thank you Tracy! You've definitely gave me some food for thought!"

Thank you so much - this is exactly my thoughts entirely. I can't say too much now but you have made perfect sense. Thank you ❤️"

Thank you so very much, you are amazing."

I have put together some reading packages covering topics that I specialise in. Some may also include additional, and unique, methods that I use in my readings. Click on a package to find out more about it.
I will read spreads created by you using our Digital Tarot Deck. Click the button below for a list of the spreads I would be happy to read for you
Tracy's Testimonials
If you have had a reading from me I would be very grateful if you could tell others about your experience here.
We previously used Facebook Comments for testimonials from clients.
Please use Disqus above if you want to leave a testimonial as we are phasing out the use of Facebook's system.
Nataliya Tokar

it took me some to digest what she were saying, but I got it. Every thing she said happened and still going on. Now I know I made a right choice. I got good advices and chance to see a situation from different point of view. Thank you very much.
Apr 21, 2017 4:04 am

Tu Quynh

Amazing reader that her predicted last time so right . I came back today for more! Must try her you will love her! Thank you Tracy so much
Jul 15, 2016 8:07 am

Vivie Cong

Tracy is the best! She is so passionate and giving the best best insight for me. She is so tune in with my situation. I'm so grateful to her reading
May 16, 2016 7:05 am

Mary Kuntz

Tracy is truly amazing. She was able to give me an accurate interpretation of what is going on in my life.
Nov 16, 2015 3:11 am

Sernise O'Neal

Thank you Tracy...the reading was very helpful.
Jul 17, 2015 1:07 am