2 of Cups Tarot Card Meaning & Interpretations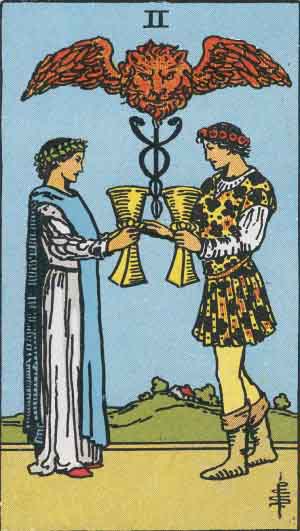 The 2 of Cups is a card of romantic relationships, love and gentleness. The element here is Water which relates to love and emotions. The aspects of the number 2 in numerology are love, gentleness, harmony, balance, adaptability, diplomacy and co-operation. In the Rider-Waite-Smith Tarot a man and a woman stand facing, holding a cup towards each other. In some other Tarot decks their arms may be crossed and they may also be drinking from the cups. This card is more commonly associated with a romantic relationship than a platonic one. The simple interpretation (& there are always many) is that this is a "date". The image could seen as couple courting.
© Phuture Me Ltd 2010-2015. All rights reserved.