10 of Cups Tarot Card Meaning & Interpretations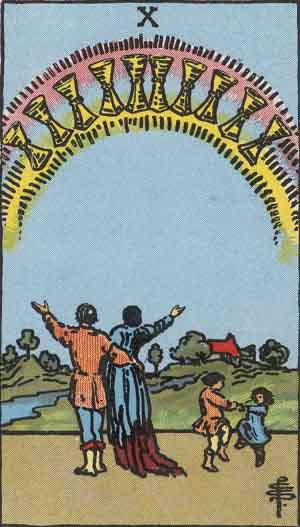 The 10 of Cups is a card of great happiness, the establishment of a happy family or meeting someone who is the perfect partner for a long and happy relationship. The element here is Water which relates to love and emotions. The number 10 is reduced in numerology to a 1. However never forget that the 10 marks the completion of one cycle and the start of a new one. The aspects of the number 1 in numerology are beginnings, creation, progress and ambition. The imagery of the 10 of cups is often one of a family in green fields with a home in the background and sometimes a rainbow above them. The children play happily in the fields and the couple embrace in love. It can symbolise a happy family and a stable home. Drawing this card when diving on the suitability of a partner would be very auspicious for a long term relationship if a family was also desired.
© Phuture Me Ltd 2010-2015. All rights reserved.