Four of Wands Tarot Card Meaning & Interpretations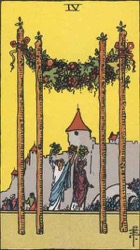 The 4 of Wands, 4 of Rods or 4 of Batons is a card of structure, security and firm roots in a home or work place. The element here is Fire which relates to home, community, work and creativity. The aspects of the numer 4 in numerology are patience, endurance, restriction, service, and rigidity. This 4 of Wands can point to putting down root in a new home so it can often appear when moving home or buying a home. It may even refer to a holiday home, time share etc. The 4 is a rigid and stable number and with the Wands it can represent the solid foundations of a home and family through marriage and commitments being made.
© Phuture Me Ltd 2010-2018. All rights reserved.
THE PICTORIAL KEY TO THE TAROT
By Arthur Edward Waite (1911)
From the four great staves planted in the foreground there is a great garland suspended; two female figures uplift nosegays; at their side is a bridge over a moat, leading to an old manorial house. Divinatory Meanings: They are for once almost on the surface--country life, haven of refuge, a species of domestic harvest-home, repose, concord, harmony, prosperity, peace, and the perfected work of these. Reversed: The meaning remains unaltered; it is prosperity, increase, felicity, beauty, embellishment.