Numerology Personal Year 9
This year marks the end of a phase in your life. Whatever you don't want to carry into the next year which will be a year of new starts, a 1 Personal Year, you must let go of it this year. If you are unhappy in a long term relationship or marriage this will be the year to walk away. Same applies to business relationships or friendships. It is not a good year for meeting someone as in the 9 relationships started rarely last.
Whatever project or ambition you started in your 1 Personal Year you should complete it this year and bring it to a close.
Clear out the dead wood, pull up the weeds and make way for the new in the year to come.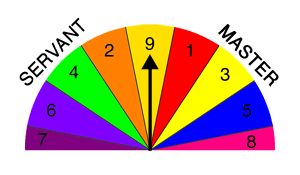 © Phuture Me Ltd 2010-2012. All rights reserved.
Tarot Cards with Numerology of 9
The symbolism of Tarot, in particular the Rider-Waite-Smith Tarot deck, matches the numerology of its card's number and this can be a very useful visual reference for divining the meanings of a 9 Personal Year
© Phuture Me Ltd 2019. All rights reserved