9 of Cups Tarot Card Meaning & Interpretations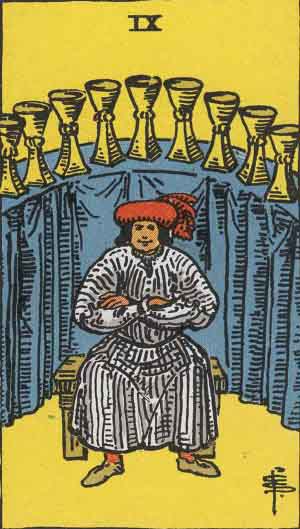 The 9 of Cups is a card of contentment, self-satisfaction and enjoying the good life. The element here is Water which relates to love and emotions. The aspects of the number 9 in numerology are endings, completion of cycles, harvest time, charity and generosity. The number 9 is associated with The Moon" />, therefore this card can subtly warn of delusions, dreams and things not being all what they appear to be. The imagery of this card is often that of a fat jolly man or couple at a table with 9 filled cups and sometimes plenty of fruit and food. The simplest message here is one of enjoying the fruits of the labours of love with family, friend or loved ones. It could even be a warning about over eating and putting on too much weight!
© Phuture Me Ltd 2010-2015. All rights reserved.