The Tower Tarot Card Meaning & Interpretations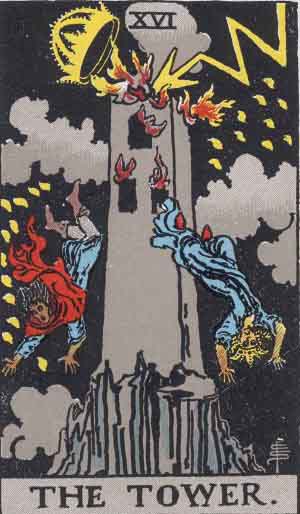 The Tower is the card of shock, unexpected events, natural disasters or catastrophes. The theme continues with preceeding card, The Devil, here we see a man and a woman falling from their tower. There is a warning of pride coming before a fall. Man trying to elevate himself to heaven using his knowledge and skills to construct a tower only to be struck down by God. This is a biblical reference to the Tower of Babel. In life we construct beliefs, friendships, businesses, etc that fall apart unexpectedly. For some of us, the truth is a question of belief. How long can someone ignore the real truth before it brings them, and their beliefs, crashing down to earth?
The appearance of The Tower won't always herald such dramatic or traumatic events. This card can refer to problems with the home, or office. Building repairs is one example.
Numerology: The Tower has the number 16 in the major arcana. This is reduced in Numerology to 7 (1 + 6). The number 7 is the number of mental analysis, introspection, research & spirituality. The people of Babylon built a tower to reach heaven only to have it destroyed by God. The number 7 symbolises the search for God, faith, spiritual understanding or the attempt to find heaven or the Kingdom of God. Jesus said "The Kingdom of God is within you". Sometimes spiritual awakening comes not through quiet contemplation but by a traumatic and unexpected turn of events. A near death experience, the loss of a loved one or some sudden change that makes you realise what really matters in life. The card following The Tower is The Star which continues with this theme as it can symbolise spiritual enlightenment.
© Phuture Me Ltd 2010-2018. All rights reserved.