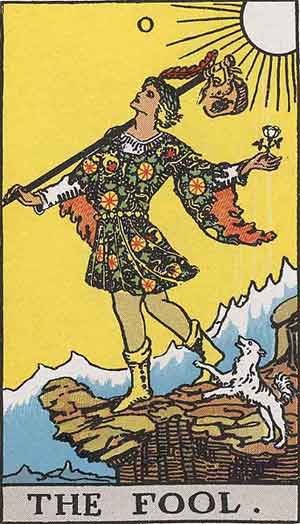 The Fool is probably the most mis-understood but certainly the most important card in the Tarot deck. Arthur E. Waite and Pamela Coleman Smith's Fool is illustrated in a way that leaves The Fool's next step open to interpretation. Most who see this card take his name and, as the human mind is so good at, fill in what's not there. A cliff and unheeded disaster. But is it a cliff? Could it just be a ledge? Is the dog trying to warn him, or is it just happy and carefree like it's companion who is looking towards the heavens. The dog too appears, on closer inspection, to be looking in the same direction. Neither traveller is concerned with the ground falling away in front of them.
The Fool is unique among the Major Arcana for being the only card not to have a number. However some Tarot decks give The Fool a numerical value of 0(zero). The Fool is an individual's journey through the trials of life, marked out by each of the 21 major Arcana cards, ending with the Ascension to Enlightenment in the final card, The World.
Sometimes we need to follow our hearts and not our heads, or the perceived wisdom of others, but instead trust in our own intuition.
"Your time is limited, so don't waste it living someone else's life.
Don't be trapped by dogma, which is living with the result of other people's thinking.
Don't let the noise of other's opinions drown out your own inner voice.
And most important, have the courage to follow your heart and intuition.
They somehow already know what your truly want to become.
Everything else is secondary.
Stay Hungry, Stay Foolish "
- Steve Jobs, 2005 Stanford Commencement Address.
Other online descriptions of The Fool:


© Phuture Me Ltd 2010-2015. All rights reserved.