Three of Pentacles Tarot Card Meaning & Interpretations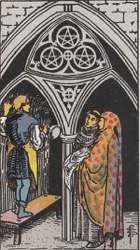 The number three, in numerology, is expressive, creative, social and joyful when positive. The 3 Of Cups gives a beautiful visual guide to its social and joyful nature. There's a child like carefree irresponsibility to the three as well as a need for attention - "look at what I'm doing!". This requires a certain level of supervision and support. The three can't express itself without company that is willing to acknowledge and/or support it.
The combination of the number three with pentacles, and its focus on the material world, is like a child doing a drawing and showing it to their parent looking for praise for what they have made. In the Rider Waite Smith deck the artist chose to visually represent this by depicting a skilled tradesman, a stone mason, being supported and guided in his work by a monk, who is probably the paying patron, and an architect holding up plans for him to follow. This card does not refer to the paying patron since this character is better represented by the Queen Of Pentacles. Nor does it refer to the supervisor. Using the analogy of a child needing supervision and direction for its creative outlets this role would be better symbolised by The Empress if it's a nurturing role. If the supervisory role is formal, like that of an architect, then the card to look for would be The Hierophant. The 3 of Pentacles references either the artisan who is doing the creative work or a collective group working together as a team to see a creative project come to life.
In its simplest interpretation the 3 of Pentacles could be referring to making ones material possessions look good to others or showing them off. For example home improvements like mowing the lawn and tidying a garden so that your home looks good to neighbours and passers by. If surrounding cards are wands then this pulls the 3 of Pentacles into the work place, or community, suggesting recognition received for work done and what you've created or working as part of a team on something new and creative.
The 3 of Pentacles, or 3 of Coins, is a card of team work, apprenticeship or hiring of skilled labour. The element here is Earth which relates to wealth and material possessions. The positive aspects of the number 3 in numerology are the joy of living, sociability, self expression and creativity. The creative aspect of the 3 combined with the element of earth and its representation of wealth points to reward and/or recognition through application of skill and creativity. As 3 is also a social number it alludes to working with others to create wealth.
© Phuture Me Ltd 2010-2018. All rights reserved.
THE PICTORIAL KEY TO THE TAROT
By Arthur Edward Waite (1911)
A sculptor at his work in a monastery. Compare the design which illustrates the Eight of Pentacles. The apprentice or amateur therein has received his reward and is now at work in earnest. Divinatory Meanings: Métier, trade, skilled labour; usually, however, regarded as a card of nobility, aristocracy, renown, glory. Reversed: Mediocrity, in work and otherwise, puerility, pettiness, weakness.
Related Tarot Cards
© Phuture Me Ltd 2018. All rights reserved.