Six of Pentacles Tarot Card Meaning & Interpretations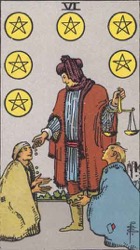 There is a reverence towards some numbers due to their reputed ability to attribute power, success or wealth such as the numbers 1, 3 or 8. They may have a focus on those pursuits but they also come with a balanced amount of challenges too. Take a look at the number 8's in Tarot's minor arcana for examples of why the 8 won't always be a road to riches and success. The number 3 is connected with joy, happiness and expressing it in celebration but it also suffers from being a bit careless and childish. It needs adult supervision.
The number 6 tends to be overlooked but it can be the most harmonious number of all 9. Its central theme is one of responsibility and service to others which is perhaps why it tends to be ignored. However what Tarot's imagery does very well is to point out that to be able to be of service to others, and giving of oneself, you need to be in a good place to do so. This is emphasised by the depiction of the Garden of Eden in card number 6 of Tarot's Major Arcana, The Lovers, in the Rider Waite Smith (RWS) deck. Rather than striving to be successful and having it all, as those who pursue the 1's and 8's do, the 6 is symbolic of having already achieved that status. To be the Philanthropist, depicted in the RWS Six of Pentacles card, you need to have it to be able to give it away. If you are looking for an auspicious number consider the number that symbolises having arrived at success rather than the numbers that promises a possible road to success.
The 6 of Pentacles, or The 6 of Coins, is a card of philanthropy, benevolence, generosity, material justice and financial commitment to family, friends or community. The element here is Earth which relates to wealth and material possessions. The aspects of the number 6 in numerology are home, responsibility, domesticity, burden bearing, service to others and family. As much as this is a card of spending, or giving, for those who are in need it is also an auspicious card for being in a financial, or material, position to be able give.
© Phuture Me Ltd 2010-2018. All rights reserved.
THE PICTORIAL KEY TO THE TAROT
By Arthur Edward Waite (1911)
A person in the guise of a merchant weighs money in a pair of scales and distributes it to the needy and distressed. It is a testimony to his own success in life, as well as to his goodness of heart. Divinatory Meanings: Presents, gifts, gratification another account says attention, vigilance now is the accepted time, present prosperity, etc. Reversed: Desire, cupidity, envy, jealousy, illusion.
Related Tarot Cards
© Phuture Me Ltd 2018. All rights reserved.