Six of Swords Tarot Card Meaning & Interpretations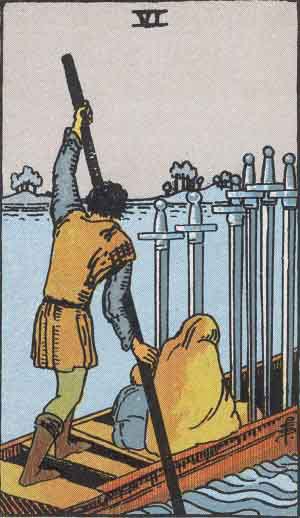 The 6 of Swords is a card of calmness, peace, travel and moving to a better place. The element here is Air which relates to challenges, conflicts and the mental aspects of our lives. The storms on the path of life that we have to navigate through. In numerology a number has positive, negative & destructive influences. The suite of Swords tends to focus on the negative and destructive however the 6 of Swords is one of the exceptions. The aspects of the number 6, in numerology, are home, family, friends & responsibility. The harmony and protection of the 6 can be seen in the imagery of the 6 of Swords which has, in many decks, a man crossing calm, flat, waters. The water represents emotions and, unusually for the suite of swords, there is calm here. This will be an easy crossing for the traveller. In some decks, like the Rider-Waite-Smith, the man is on a boat with a woman and child representing the family of the 6. This appearance of this card can point to a journey across water.
© Phuture Me Ltd 2010-2015. All rights reserved.