Six of Cups Tarot Card Meaning & Interpretations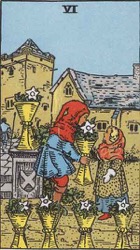 The 6 of cups is a card of platonic love, innocence and kindness. It is related to The Lovers through having the same number and therefore the same numerological symbolism. Where as The Lovers offers an irreversible option to change, by sacrificing innocence, this situation is fixed and immutable. In the Rider Waite Smith (RWS) Deck the artist symbolised the card's immutability through numerology by placing 4 cups on the ground in front of the characters. This theme of immutability in emotions references unconditional love, the love between parent and child, siblings and other family members.
The RWS deck 6 of cups symbolises expressing love to family members, friends and others through acts of kindness. Compare the 6 of cups to the 2 Of Cups where each character offers the other a cup in a loving exchange, the 6 of cups depicts the giving in one direction, there is no expectation of love returned.
The 6 of Cups is a card of nostalgia, happy memories, platonic relationships, unconditional love and reunions with family or friends from the past. The element here is Water which relates to love and emotions. The aspects of the number 6 in numerology are home, community, responsibility, domesticity, burden bearing and family. For someone looking for love or a relationship with another person this card would be a no to romance but a strong platonic relationship instead. This card often appears when old friends meet up again or someone re-appears from the past.
© Phuture Me Ltd 2010-2018. All rights reserved.
THE PICTORIAL KEY TO THE TAROT
By Arthur Edward Waite (1911)
Children in an old garden, their cups filled with flowers. Divinatory Meanings: A card of the past and of memories, looking back, for example on childhood; happiness, enjoyment, but coming rather from the past; things that have vanished. Another reading reverses this, giving new relations, new knowledge, new environment, and then the children are disporting in an unfamiliar precinct. Reversed: The future, renewal, that which will come to pass presently.
Related Tarot Cards
© Phuture Me Ltd 2018. All rights reserved.