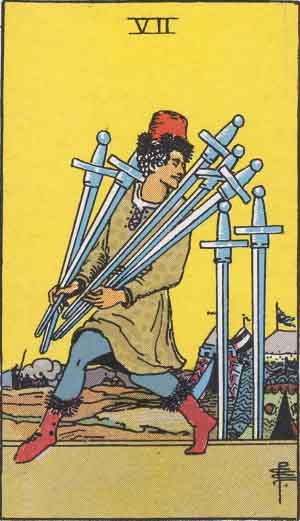 The 7 of Swords is a card of theft, greed, deceit and avoiding confrontation. The element here is Air which relates to challenges, conflicts and the mental aspects of our lives. The storms on the path of life that we have to navigate through. In numerology a number has positive, negative & destructive influences. The suite of Swords tends to focus on the negative and destructive. The negative aspects of the number 7 in numerology are malice, theft, cheating, craftiness, confusion and deceitfulness. The positive aspects in numerology of the 7 of rest, introspection and thought before action can come into play with this card too. Instead of fighting withdraw from the battlefield quietly.
Other online descriptions of The 7 of Swords:


© Phuture Me Ltd 2010-2015. All rights reserved.