9 of Pentacles/Coins Tarot Card Meaning & Interpretations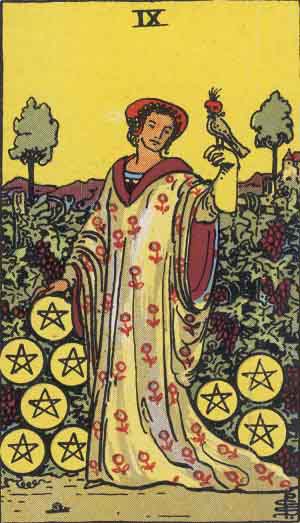 The 9 of Pentacles, or 9 of Coins, is a card of harvesting the work of the past and financially gaining from the fruits of labour or investment. The element here is Earth which relates to wealth and material possessions. The aspects of the number 9 in numerology are endings, completion of cycles, harvest time, charity and generosity. The number 9 is associated with The Moon" />, therefore this card can subtly warn of delusions, dreams and things not being all what they appear to be. It is time to reap what has been sown and tidy up. A time to cash in on the efforts of the past and clear the way for the beginning of the next cycle. The 9's are also card's of solitude and can indicate loneliness in the home or working alone. These financials rewards may well be enjoyed alone.
© Phuture Me Ltd 2010-2015. All rights reserved.