The Wheel of Fortune Tarot Card Meaning & Interpretations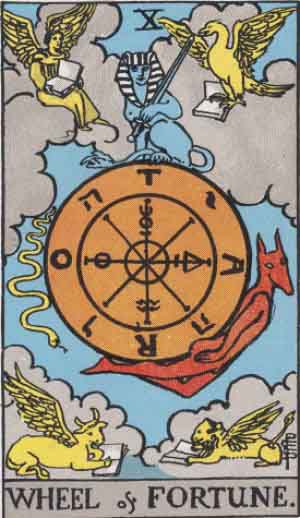 The Wheel of Fortune is a card of cyclical change and fortune. Fate and destiny will decide how this new cycle will begin. This card alone tells very little other than that change will happen. Surrounding cards will reveal the area of life in which this change will take place and it's outcome, positive or negative.
A simple interpretation of this card can be gambling, or taking a chance.
Numerology: The Wheel of Fortune is card number 10 of the major arcana. Numerology reduces 10 to number 1 (1+0 = 1). The 10 represents the completion of a cycle and, after reduction, the beginning of a new cycle. Chance, fate or luck (good and bad) can mark the beginning of a new direction.
© Phuture Me Ltd 2010-2015. All rights reserved.