Ten of Pentacles Tarot Card Meaning & Interpretations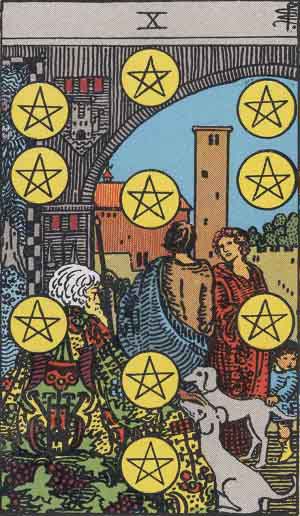 The 10 of Pentacles, or The 10 of Coins, is a card of good long term investments, happiness in the home and at work and inheritances. The element here is Earth which relates to wealth and material possessions. The number 10 is reduced in numerology to a 1. However never forget that the 10 marks the completion of one cycle at the start of a new one. The aspects of the number 1 in numerology are beginnings, creation, progress and ambition. This card can refer to long term investments that will be successful and bare fruit. Unlike the lonely 9 the 10 shows a couple enjoying the benefits of this wealth. This is a happy card of financial and emotional happiness.
© Phuture Me Ltd 2010-2015-2012. All rights reserved.