Ten of Wands Tarot Card Meaning & Interpretations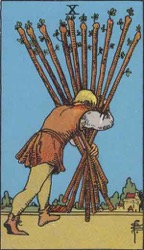 The 10 of Wands, 10 of Rods or 10 of Batons is a card of heavy burdens, excessive responsibilities and hard work. The element here is Fire which relates to home, community, work & creativity. The number 10 is reduced in numerology to a 1. However never forgot that the 10 marks the completion of one cycle at the start of a new one. The aspects of the number 1 in numerology are beginnings, creation, progress and ambition. It could be that through the successul completion of one cycle of chores or responsibility, new and greater responsibility is being given. The imagery of the 10 of Wands is often one of a man struggling to pick up and carry 10 long rods and the interpretation of the card is often one of being overburdened or simply doing hard manual labour.
© Phuture Me Ltd 2010-2018. All rights reserved.
THE PICTORIAL KEY TO THE TAROT
By Arthur Edward Waite (1911)
A man oppressed by the weight of the ten staves which he is carrying. Divinatory Meanings: A card of many significances, and some of the readings cannot be harmonized. I set aside that which connects it with honour and good faith. The chief meaning is oppression simply, but it is also fortune, gain, any kind of success, and then it is the oppression of these things. It is also a card of false-seeming, disguise, perfidy. The place which the figure is approaching may suffer from the rods that he carries. Success is stultified if the Nine of Swords follows, and if it is a question of a lawsuit, there will be certain loss. Reversed: Contrarieties, difficulties, intrigues, and their analogies.