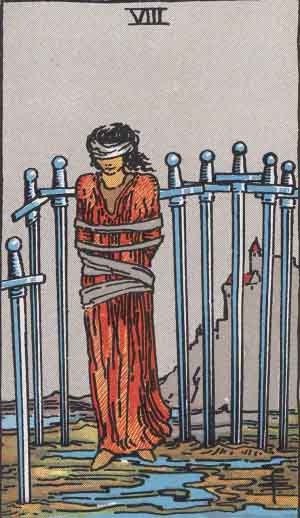 The 8 of Swords is a card of restriction, lack of confidence, confinement and being tide down against one's will. The element here is Air which relates to challenges, conflicts and the mental aspects of our lives. The storms on the path of life that we have to navigate through. In numerology a number has positive, negative & destructive influences. The suite of Swords tends to focus on the negative and destructive. The negative aspects of the number 8 in numerology are bullying, abuse, oppression, injustice. The positive aspect are of power and control. With the 8 of Swords the power and control is in the hands of others and the person is suffering at their hands.
Other online descriptions of The 8 of Swords:


© Phuture Me Ltd 2010-2015. All rights reserved.