Strength Tarot Card Meaning & Interpretations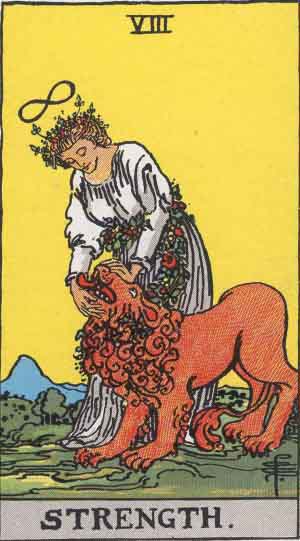 Strength is the card of physical well being, strength of will and controlling the inner beast. Mankind's dominance over the animal kingdom through the use of his superior intellectual strength. Impulsive animal instincts need to be controlled with strength of mind and will. In a very simple interpretation it can represent a pet or animal. Health is a theme of this card, it often represents good health if health is of concern and a focus in a reading. Surrounding cards will indicate if this health is at risk or how it can be achieved.
In the Rider-Waite-Smith Tarot the traditional numbering of Strength as card 11 was swapped for 8 (Justice). Many modern Tarot decks have continued with this altered numbering in the major arcana introduced by Waite.
Numerology: For whichever card has the Major Arcana's 8th position the numerological meaning is of power and control. For this reason Strength is numerologically better suited to position 8 than Justice.
© Phuture Me Ltd 2010-2015. All rights reserved.