8 Of Cups Tarot Card Meaning & Interpretations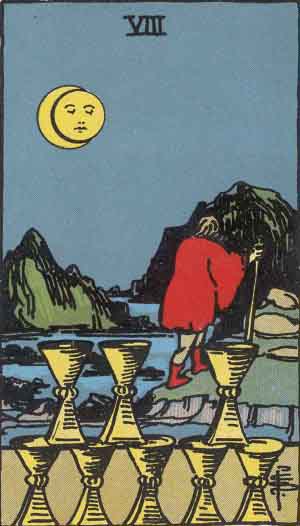 The 8 of Cups is a card of moving on, taking control and independence. The element here is Water which relates to love and emotions. The aspects of the number 8 in numerology are power, control, material freedom, organisation, practicality, self-reliance and success. This card is un-usual in the suite of Cups in that it is the least emotional of the suite. In the Rider-Waite-Smith Tarot a man walks away from 8 cups stacked as 5 and 3. The 3 representing joy and happiness and the 5 freedom and change. The moon is full (representing change) and he has crossed water (passed over love) and has his back to the 8 cups (rejection of what he had emotionally). This can be a card of self chosen solitude, giving up emotional ties to seek something else, something higher or something better. Dependance on loved ones and family has decreased as this independence has been found.
© Phuture Me Ltd 2010-2015. All rights reserved.