King of Swords Tarot Card Meaning & Interpretations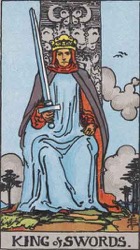 Court cards, like the King of Swords, are unnumbered which makes using numerology to unlock their basic symbology challenging. On the surface we have the male ruler of the elemental domain of Air but not much else to go on. We can however link Tarot's Kings to their supreme ruler and card number 4 of the Major Arcana, The Emperor, which would give any King a numerological attribute of 4 by proxy.
The same element and numerology is found in the 4 of Swords. The suit of Swords tends toward the negative aspects of numerology but the 4 of Swords is one of the exceptions with its peaceful knight lying on top of a coffin in what appears to be inside a church. Is he dead or alive and just meditating on his own mortality?
The King and this Knight are both linked to Tarot's Death card in numerology, since 13 reduces to 4 (1+3). Both cards have the duality of representing life or death. The King, with his raised sword, may be about to pass a sentence of capital punishment. There's a potential threat of an abrupt ending.
The Rider-Waite-Smith (RWS) Deck's King of Swords is unusual in that it is one of only three minor arcana cards whose character is looking directly at you. The other two being the 9 Of Cups and the 4 Of Pentacles. This King is not a man who is making future plans or dwelling on past issues and conflicts. His attention is in the present moment and, with his raised sword, he is dealing with what is happening right now.
Unlike the Queen Of Swords who is looking for, or guarded against, potential future problems the King is dealing with real current problems. When estimating timing of events in Tarot this King would be the best candidate for right now or immediately.
The King of Swords may be a mature* man whose vocation in life is related to the element of air (pilot, air steward, meteorologist, etc), intellectual challenges (teacher, academic, scientist, lawyer, judge etc), surgical professions (dentist, surgeon etc) or defence (soldier, policeman etc). The Swords offer a great range of vocational possibilities in their symbolism. The symbolic relationship to this card may not be vocational, it could be a description of his personality. In this case this man could be cold or domineering, argumentative, arrogant, authoritative, assertive, career minded or ambitious. His positive traits could be that he is brave and courageous or highly intelligent. He could even be someone who has spent time in prison or lives outside of the law.
*maturity happens between ages 28 to 37, when a man enter's his 2nd numerological life cycle.
© Phuture Me Ltd 2010-2019. All rights reserved.
THE PICTORIAL KEY TO THE TAROT
By Arthur Edward Waite (1911)
He sits in judgment, holding the unsheathed sign of his suit. He recalls, of course, the conventional Symbol of justice in the Trumps Major, and he may represent this virtue, but he is rather the power of life and death, in virtue of his office. Divinatory Meanings: Whatsoever arises out of the idea of judgment and all its connexions-power, command, authority, militant intelligence, law, offices of the crown, and so forth. Reversed: Cruelty, perversity, barbarity, perfidy, evil intention.
Related Tarot Cards
© Phuture Me Ltd 2018. All rights reserved.