King of Swords Tarot Card Meaning & Interpretations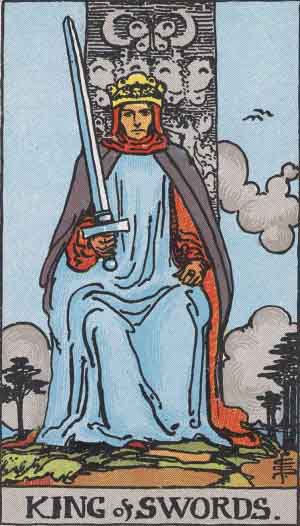 The King of Swords is a mature* man who's vocation in life is related to the element of air (pilot, air steward, meteorologist, etc), intellectual challenges (teacher, academic, scientist, lawyer, judge etc), surgical professions (dentist, doctor, surgeon, nurse etc) or defence (soldier, policeman etc). The Swords offer a great range of possibilities of vocation in their symbolism. The symbolic relationship to this card may not be vocational, it could be a description of his personality. In which case this man could be cold or domineering, argumentative, arrogant, authoritative, assertive, career minded or ambitious. His positive traits can be that he is brave and courageous or highly intelligent. He could even be someone who has spent time in prison or lives outside of the law.
*maturity happens between ages 28 to 37, when a man enter's his 2nd numerological life cycle.
© Phuture Me Ltd 2010-2015. All rights reserved.