Knight of Pentacles Tarot Card Meaning & Interpretations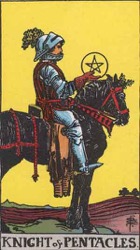 Tarot's Knights, like the Knight of Pentacles, are related to The Chariot. They can be thought of as the Captains of their element, in this case Earth, led by their leader The Charioteer who is warlord of all the elements. As The Chariot is card number 7 of the Major Arcana we can assign any Knight a numerological attribute of 7 by proxy. The numerological traits of the number 7 are rest, inaction, planning, analysing and waiting. A Knight, just like The Chariot, cannot represent attack and should only be defensive. They wear simple, practical, armour without ceremonial, or rank defining, decoration. Helmets, not crowns. Their display is purely one of defending their element.
The Chariot and Knights, with the exception of the Knight of Swords, represent defence. The Rider-Waite-Smith (RWS) Tarot deck emphasised their defensive nature by cladding them in armour. In the older Tarot decks, like the Marseilles, only the Knight of Swords is wearing armour and holding a weapon. The key theme with the Knight of Pentacles is one of being materially defensive. The imagery of the card you are looking at should illustrate the mind set. In both the Marseilles and RWS decks the horse backed knight faces west/right which represents the future. His right hand holds a single pentacle forward in an offering gesture. Just as the Ace of Pentacles signifies a new material investment, or possession, this card does too but with the caveat that it's being done so cautiously.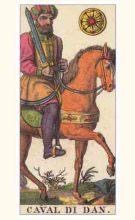 There are many ways to interpret the Knight of Pentacles. Some examples are:
Offering a gift or receiving one with caution. Past negative experiences may be causing this defensive stance. Suspecting that someone is trying to win favour with a gift because they have ulterior motives and being resistant to accepting it.
It could be a need to borrow, hire or purchase something. This card maybe advising that due diligence should be applied first, and all options explored, before proceeding.
Remember that health is sometimes covered by this elemental domain which is psychical as well as material. The 5 Of Pentacles sometimes points to poor health and illness. The Knight of Pentacles can therefore represent taking health precautions, purchasing protective clothing or just looking after your body.
The simplest way to interpret this card is just being careful with your money and not over extending your expenses.
The Knight of Pentacles, also known as the Knight of Coins or Knight of Deniers, could be a young* man who has not reached maturity** yet. His vocation in life could be related to the element earth (farmer, gardener etc) or money, wealth or business (entrepreneur, businessman, accountant, banker etc). The symbolic relationship to this card may not be vocational, it could be a description of his personality. In which case this man will be a cautious person, reliable, grounded, a good negotiator and maybe even has a tendency to be stubborn.
In the Rider-Waite-Smith Tarot The Knight is travelling on a horse from west to east but the horse has stopped. It is important to note these details when divining who the symbology is talking about. This could, for example, mean a young man who is cautiously travelling, or who comes from the west across fertile lands.
Finally, the symbology is never fixed in its interpretation as this card may not represent a person but a situation. For example it could be someone coming to collect or deliver money or news about business, the expense of car repairs or a travel insurance policy.
*the age of this man could be relative to the person the reading is for. He maybe a mature man but a younger man.
**maturity happens between ages 28 to 37, when a man enter's his 2nd numerological life cycle.
© Phuture Me Ltd 2010-2019. All rights reserved.
THE PICTORIAL KEY TO THE TAROT
By Arthur Edward Waite (1911)
He rides a slow, enduring, heavy horse, to which his own aspect corresponds. He exhibits his symbol, but does not look therein. Divinatory Meanings: Utility, serviceableness, interest, responsibility, rectitude-all on the normal and external plane. Reversed: inertia, idleness, repose of that kind, stagnation; also placidity, discouragement, carelessness.
Related Tarot Cards
© Phuture Me Ltd 2018. All rights reserved.