The Chariot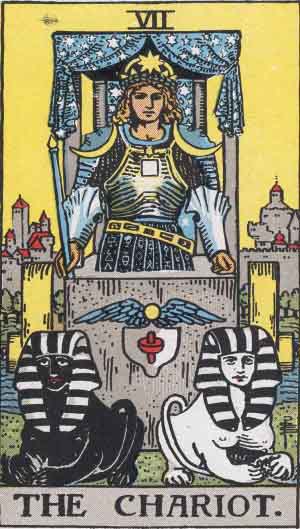 The Chariot is the card of transportation and advancement along the path of life. The Chariot is commonly depicted drawn by 2 or more creatures. In the Rider-Waite-Smith Tarot by 2 sphinx, one black and one white. In many other decks it is drawn by 4 horses, one for each of the classical elements of water, earth, fire and air. The driver of The Chariot is master of what pulls him along life's path. This is a positive card indicating advancement or achievement through mastery of the forces of life, striking a working balance with dualities. In it's simplest interpretation it can indicate actually travelling across land or a motor vehicle that the person is in control of.
Numerology: The Chariot is card number 7 of the major arcana. This is the numer of introspection, planning and spirituality. Although in numerology the number 7 indicates a day of rest and not of travel its relevance to The Chariot is in its theme of thinking ahead. No one embarks on a journey without first planning a route. Success as a navigator on the path of life is best achieved when one plans the route ahead rather than letting the forces of life just pull you along.
© Phuture Me Ltd 2010-2015. All rights reserved.