Knight of Cups Tarot Card Meaning & Interpretations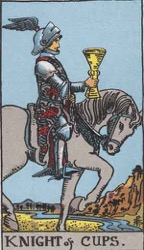 Tarot's Knights, like the Knight of Cups, are related to The Chariot. They can be thought of as the Captains of their element, in this case Water, led by their leader The Charioteer who is warlord of all the elements. As The Chariot is card number 7 of the Major Arcana we can assign any Knight a numerological attribute of 7 by proxy. The numerological traits of the number 7 are rest, inaction, planning, analysing and waiting. A Knight, just like The Chariot, cannot represent attack and should only be defensive. They wear simple, practical, armour without ceremonial, or rank defining, decoration. Helmets, not crowns. Their display is purely one of defending their element.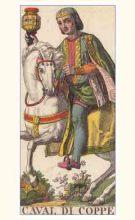 The Chariot and Knights, with the exception of the Knight of Swords represent defence. The Rider-Waite-Smith (RWS) Tarot deck emphasised their defensive nature by cladding them in armour. In the older Tarot decks, like the Marseilles, only the Knight of Swords is wearing armour and holding a weapon. The key theme with the Knight of Cups is one of being emotionally defensive. The imagery of the card you are looking at should illustrate the mind set. In Marseilles Tarot decks the Knight is heading east/left which symbolises the past. The RWS deck reversed the Knight of Cups while keeping all other Knights the same as the Marseilles. In the RWS the horse backed knight is plodding slowly west/right which represents the future. His right hand holds a single cup forward in an offering gesture. Just as the Ace of Cups signifies a new, emotional, connection this card does too but with the caveat that it's being offered cautiously. This is someone who wants to reach out and bond but is probably too defensive to succeed. To really receive this gift you need to reassure the rider enough to encourage them to dismount their high horse and remove their emotional armour. This is someone who is afraid of their feelings or afraid of being hurt or who has become emotionally withdrawn and defensive due to past relationship experiences that have caused emotional pain.
The Knight of Cups can be a young* man who has not reached maturity** yet. His vocation in life could be related to the element of water (a fisherman, a sailor, a plumber etc.) or emotions (a counsellor, psychologist, actor etc). The symbolic relationship to this card may not be vocational, it could be a description of his personality. In which case this man will be a sensitive, caring, romantic and perhaps even a gullible or innocent youth. Sometimes it refers to a youth who has feminine qualities or who is highly intuitive or even psychic.
In the Rider-Waite-Smith Tarot The Knight is travelling on a horse from west to east and he is about to cross water on his journey. It is important to note these details when divining who the symbology is talking about. This could, for example, mean a young man who comes from across water (overseas) and/or from the West.
Finally, the symbology is never fixed in its interpretation as this card may not represent a person but a situation. For example it could be a warning about drinking and driving!
*the age of this man could be relative to the person the reading is for. He maybe a mature man but a younger man.
**maturity happens between ages 28 to 37, when a man enter's his 2nd numerological life cycle.
© Phuture Me Ltd 2010-2019. All rights reserved.
THE PICTORIAL KEY TO THE TAROT
By Arthur Edward Waite (1911)
Graceful, but not warlike; riding quietly, wearing a winged helmet, referring to those higher graces of the imagination which sometimes characterize this card. He too is a dreamer, but the images of the side of sense haunt him in his vision. Divinatory Meanings: Arrival, approach--sometimes that of a messenger; advances, proposition, demeanour, invitation, incitement. Reversed: Trickery, artifice, subtlety, swindling, duplicity, fraud.
Related Tarot Cards
© Phuture Me Ltd 2018. All rights reserved.