Page of Cups Tarot Card Meaning & Interpretations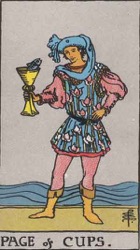 Tarot Page's, like the Page of Cups, are related to The Fool. They can be thought of as Minor Fool's who's focus is on their element, in this case water, rather than being spiritually focused like the Major Arcana's Fool.
The central theme of these Fool's is one of not following rational, or conventional, approaches to life. Not caring what other's think (named fool because that's what others think) and following one's gut, or instincts. Not being trapped by dogma. Listening to their own inner voice instead of the voices of others. Pages are dreamers and some are capable of turning their dreams into reality.
With the Page of Cups this "foolish" approach is towards the emotional aspects of life. The surrounding cards should give clues to this path being a happy, benign or unhappy one in it's outcome. You may be planning to spend the weekend with your friends, family or loved one and pulled a single card to see if your plans will work out. You get the Page of Cups. Tarot is reflecting your state of mind. You are dreaming of previous good times and desire more of the same. Can that dream be a reality? Tarot is making you question yourself and state of mind. Are you setting yourself up for a disappointment? Do you need to take a more mature approach to where you want to be and what you want to happen?
The Page of Cups, as a person, would be a male or female child who could be sensitive, shy, loving, emotional, introspective, quiet or gentle in nature. This child maybe musical or artistically inclined, or simply a child that loves playing around water or swimming.
Pages are also messengers and their appearance in Tarot more commonly signifies a message or news. This news could be from a loved one, a family member and/or will be of an emotional content, for example, regarding a pregnancy, birth, engagement or wedding. It could simply be a kind offer of help from a friend.
Pay close attention to the details of the imagery for the Page of Cups you have in your deck. The Rider-Waite-Smith Tarot has a Page holding a cup containing a fish. This could represent an aquarium or even fishing as a sport. The RWS Page of Cups stands on a beach with the sea in the background. As a situation this card could mean playing a game at a beach, on water or the sea.
© Phuture Me Ltd 2010-2018. All rights reserved.
THE PICTORIAL KEY TO THE TAROT;
By Arthur Edward Waite (1911)
A fair, pleasing, somewhat effeminate page, of studious and intent aspect, contemplates a fish rising from a cup to look at him. It is the pictures of the mind taking form. Divinatory Meanings: Fair young man, one impelled to render service and with whom the Querent will be connected; a studious youth; news, message; application, reflection, meditation; also these things directed to business. Reversed: Taste, inclination, attachment, seduction, deception, artifice.
Related Tarot Cards
© Phuture Me Ltd 2018. All rights reserved.