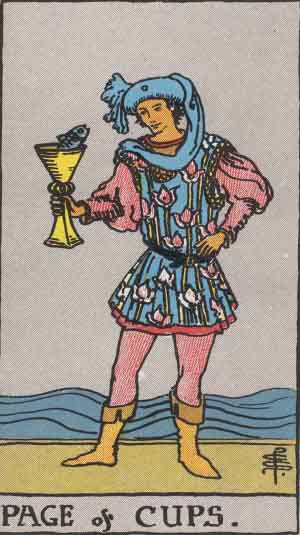 The Page of Cups, as a person, would be a child (male or female) who could be sensitive, shy, loving, emotional, introspective, quiet or gentle in nature. This child maybe musical or artisticly inclined, or simply a child that loves playing around water or swimming.
Pages are also messengers and their appearance in Tarot more commonly signifies a message or news. This news could be from a loved one, a family member and/or will be of an emotional content, for example, regarding a pregnancy, birth, engagement or wedding. It could simply be a kind offer of help from a friend.
Pay close attention to the details of the imagery for the Page of Cups you have in your deck. The Rider-Waite-Smith Tarot has a Page holding a cup containing a fish. This could represent an aquarium or even fishing as a sport. The RWS Page of Cups stands on a beach with the sea in the background. As a situation this card could mean playing a game at a beach, on water or the sea.
© Phuture Me Ltd 2010-2015. All rights reserved.