Page of Wands Tarot Card Meaning & Interpretations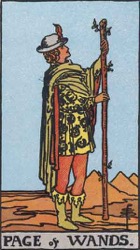 Tarot Page's, like the Page of Wands or Rods, are related to The Fool. They can be thought of as Minor Fool's who's focus is on their element, in this case fire, rather than being spiritually focused like the Major Arcana's Fool.
The central theme of these Fool's is one of not following rational, or conventional, approaches to life. Not caring what other's think (named "fool" because that's what others think) and following one's gut, or instincts. Not being trapped by dogma. Listening to their own inner voice instead of the voices of others. Pages are dreamers and some are capable of turning their dreams into reality.
With the Page of Wands this "foolish" approach is towards the practical day to day aspects of life relating to the home, community and work. The surrounding cards should give clues to this path being a positive, benign or negative one in it's outcome. You may be planning to make some changes to your home and pulled a single card to see if your plans will work out. You get the Page of Wands. Tarot is reflecting your state of mind. You are dreaming of big plans which may take more time and resource than you have. In this instance Tarot is acknowledging your ambition but it should also be raising new questions to ask yourself about this dream you have. Is it just a dream? Do you have the dedication and resources to see it through to reality?
The Page of Wands, as a person, would be a male or female child who could be energetic, creative, inquisitive and maybe enjoys making things.
Pages are also messengers and their appearance in Tarot more commonly signifies a message or news. Of the four Pages in Tarot this one is the most common message barer. Electronic communications, messages that are quickly dispatched and delivered. With the element of fire the theme of the message maybe, but not limited to, work, community and home.
Pay close attention to the details of the imagery for the Page of Wands in your deck. The Rider-Waite-Smith Tarot has a Page looking at the top of his staff or towards the sky. His gaze is in the same direction as the Page of Pentacles. This direction symbolises a mind focused on the future and a higher purpose than earthly matters. There is another card in the Rider-Waite-Smith deck which is the exact opposite in almost every respect to the Page of Wands. That card is The Hermit. There are at least 8 opposite attributes between these cards. See if you can identify them as a useful exercise in recognising symbolic details.
© Phuture Me Ltd 2010-2018. All rights reserved.
THE PICTORIAL KEY TO THE TAROT;
By Arthur Edward Waite (1911)
In a scene similar to the former, a young man stands in the act of proclamation. He is unknown but faithful, and his tidings are strange. Divinatory Meanings: Dark young man, faithful, a lover, an envoy, a postman. Beside a man, he will bear favourable testimony concerning him. A dangerous rival, if followed by the Page of Cups. Has the chief qualities of his suit. He may signify family intelligence. Reversed: Anecdotes, announcements, evil news. Also indecision and the instability which accompanies it.
© Phuture Me Ltd 2010-2015. All rights reserved.
Related Tarot Cards
© Phuture Me Ltd 2018. All rights reserved.