Page of Pentacles Tarot Card Meaning & Interpretations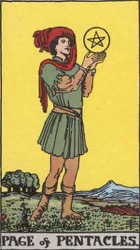 Tarot Page's, like the Page of Pentacles or Page of Coins, are related to The Fool. They can be thought of as Minor Fool's who's focus is on their element rather than being spiritually focused like the Major Arcana's Fool.
The central theme of these Fool's is one of not following rational, or conventional, approaches to life. Not caring what other's think (named fool because that's what others think) and following one's gut, or instincts. Not being trapped by dogma. Listening to their own inner voice instead of the voices of others. Pages are dreamers and some are capable of turning their dreams into reality.
With the Page of Pentacles this "foolish" approach is towards the material aspects of life. The surrounding cards should give clues to this path being brilliant, benign or foolish. You may be thinking about buying a lottery ticket tonight and pulled a single card to see if it's worth your while. You get the Page of Pentacles. Tarot is reflecting your state of mind. You are dreaming of riches.
The Page of Pentacles, as a person, would be a male or female child who could be scholarly, practical, cautious, conservative or reluctant to change.
Pages are also messengers and their appearance in Tarot can signify a message or news. This news could be about money or material possessions.
Pay close attention to the details of the imagery for the Page of Pentacles you have in your deck. The Rider-Waite-Smith Tarot has a youth standing in green fields looking upwards at the pentacle that he holds up or the sky. It's an unusual direction to look in as Pentacle (or Coin) characters, such as the Queen of Pentacles, tend to look down at the earth. The Rider-Waite-Smith Page is looking at the heavens and facing forward. The focus is on the future and a higher cause than just material.
© Phuture Me Ltd 2010-2018. All rights reserved.
THE PICTORIAL KEY TO THE TAROT;
By Arthur Edward Waite (1911)
A youthful figure, looking intently at the pentacle which hovers over his raised hands. He moves slowly, insensible of that which is about him. Divinatory Meanings: Application, study, scholarship, reflection another reading says news, messages and the bringer thereof; also rule, management. Reversed: Prodigality, dissipation, liberality, luxury; unfavourable news.
Related Tarot Cards
© Phuture Me Ltd 2018. All rights reserved.