Page of Swords Tarot Card Meaning & Interpretations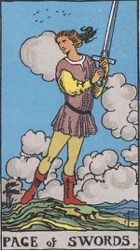 Tarot Page's, like the Page of Swords, are related to The Fool. They can be thought of as Minor Fool's who's focus is on their element, in this case air, rather than being spiritually focused like the Major Arcana's Fool.
The central theme of these Fool's is one of not following rational, or conventional, approaches to life. Not caring what other's think (named "fool" because that's what others think) and following one's gut, or instincts. Not being trapped by dogma. Listening to their own inner voice instead of the voices of others. Pages are dreamers and some are capable of turning their dreams into reality.
With the Page of Swords this "foolish" approach is towards some troublesome, or intellectual, aspects of life relating to the trials and tribulations of life. The surrounding cards should give clues to this path being a positive, benign or negative one in it's outcome. You may be dwelling on some problem and pulled a single card to see if your concerns are well founded. You get the Page of Swords. Tarot is reflecting your state of mind. Are you being defensive because of past experience with this situation. Is Tarot asking you a question? Are you being overly defensive which is causing a block to any progress? Are your actions being driven by your insecurities?
The Page of Swords, as a person, would be a male or female child who could be defensive, aggressive, changeable, alert or very analytical or critical.
Pages are also messengers and their appearance in Tarot more commonly signifies a message or news. The Page of Swords could be bringing news from an official, a professional or academic institute. A legal letter, a contract, exam results or a doctors letter are some possible examples.
Pay close attention to the details of the imagery for the Page of Swords you have in your deck. The Rider-Waite-Smith Tarot has the Page of Swords looking back over his right shoulder but his body is facing left and forward. The mind of this character is in the past but their body is preparing for something from the future. Perhaps a bad past experience has made put him on his guard and made his wary and defensive.
© Phuture Me Ltd 2010-2018. All rights reserved.
THE PICTORIAL KEY TO THE TAROT;
By Arthur Edward Waite (1911)
A lithe, active figure holds a sword upright in both hands, while in the act of swift walking. He is passing over rugged land, and about his way the clouds are collocated wildly. He is alert and lithe, looking this way and that, as if an expected enemy might appear at any moment. Divinatory Meanings: Authority, overseeing, secret service, vigilance, spying, examination, and the qualities thereto belonging. Reversed: More evil side of these qualities; what is unforeseen, unprepared state; sickness is also intimated.
Related Tarot Cards
© Phuture Me Ltd 2018. All rights reserved.