Numerology Personal Year 6
After all the freedom of last year this year brings you back to family and responsibilities. Home and family is the theme and that is where your attention belongs this year. If you've been neglecting your home and responsibilities this year would be a good year to turn your attention there. You may be reward this year with some small success for your hard work over the last 5 years, some fruits may come to bear. A pleasant year if you put your own needs aside and focus on supporting others.
A good year for getting married and settling down or beginning, or having an addition to, a family.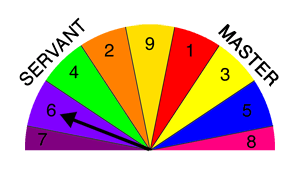 © Phuture Me Ltd 2010-2012. All rights reserved.
Tarot Cards with Numerology of 6
The symbolism of Tarot, in particular the Rider-Waite-Smith Tarot deck, matches the numerology of its card's number and this can be a very useful visual reference for divining the meanings of a 6 Personal Year
© Phuture Me Ltd 2019. All rights reserved