Queen of Wands Tarot Card Meaning & Interpretations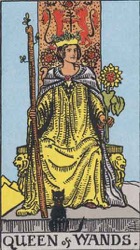 Court cards, like the Queen of Wands, are unnumbered which makes using numerology to unlock their basic symbology a trickier exercise. On the surface we have the female ruler of the elemental domain of Fire but not much else to go on. We can, however, link Tarot's Queens to their supreme ruler and card number 3 of the Major Arcana, The Empress, which would give any Queen a numerological attribute of 3 by proxy. The combination of this element and numerology point to self expression through creativity.
There are other creative cards and characters in the Tarot deck such as The Magician whose initial spark seeds the beginning of something new, The Empress with her ability to nurture all the elements into a creative fusion or the 3 Of Pentacles with its artisan creating something of material value appreciated by others. What is unique to the Queen of Wands is her motherly nature and ability to be creative through nurturing. There's almost a contradiction here as the Queen of Fire has no water. How can you truly nurture without love? This card is invariably depicted with her in a dry and arid landscape. Look to the surrounding cards in the spread to see if there is a general lack of water (or lack of love) or if there is a source of the water that irrigates her sun flower, or the budding wand in her hand, as seen in the RWS deck.
The Queen of Wands, also known as the Queen of Rods or Queen of Batons, can be a house wife, a home maker or someone who loves creative domestic work such as baking, cooking or needle work. This could be someone who loves the natural world and works outside with plants or animals. They may be practical, warm, fiery, creative and very sexual with a strongly independent streak to their nature while still retaining a great attachment to home and family. Their vocation in life may be related to the element of fire or wands, for example a potter (fire kiln), an architect, gardener or landscaper.
© Phuture Me Ltd 2010-2019. All rights reserved.
THE PICTORIAL KEY TO THE TAROT
By Arthur Edward Waite (1911)
The Wands throughout this suit are always in leaf, as it is a suit of life and animation. Emotionally and otherwise, the Queen's personality corresponds to that of the King, but is more magnetic. Divinatory Meanings: A dark woman, countrywoman, friendly, chaste, loving, honourable. If the card beside her signifies a man, she is well disposed towards him; if a woman, she is interested in the Querent. Also, love of money, or a certain success in business. Reversed: Good, economical, obliging, serviceable. Signifies also--but in certain positions and in the neighbourhood of other cards tending in such directions--opposition, jealousy, even deceit and infidelity.
Related Tarot Cards
© Phuture Me Ltd 2018. All rights reserved.