4 of Cups Tarot Card Meaning & Interpretations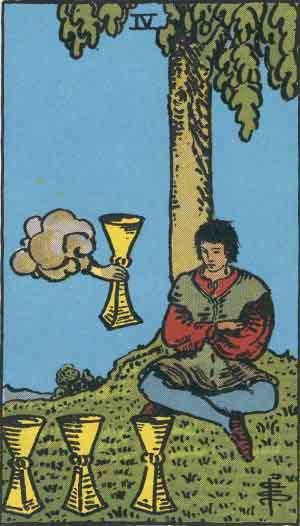 The 4 of Cups is a card of apathy, boredom and dissatisfaction. The element here is Water which relates to love and emotions. The aspects of the number 4 in numerology are patience, endurance, restriction, stagnation, service, repression, dullness and rigidity. The 4 is a very stable number but with it come a feeling of restriction and suppression. This card may point to feelings of restriction, dullness, repression etc. There is a feeling of boredom with what one has emotionally. In the Rider-Waite-Smith Tarot a man sits under a tree with his arms folded defiantly, defensively, or in peaceful contemplation looking at 3 cups on the ground in front of him while a bodiless hand holds up the 4th cup. The 3 cups is not enough, he dreams of having more than he has already represented by the hand outstretched from the cloud holding the 4th cup.
© Phuture Me Ltd 2010-2015. All rights reserved.