Ace of Cups Tarot Card Meaning & Interpretations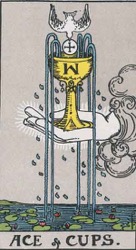 The Ace of Cups is traditionally represented as a single vessel filled with water. It's symbology is simple, it has the element of water and a numerological value of 1. As a 1 it represents a new beginning and, with water as the element, this beginning is an emotional one. The card more commonly heralds the coming of a new acquaintance or friend. Since 1's are, in numerology, singular it is unlikely to signify a romantic relationship. This card is about an individual (the querent's) emotional connection which may not be reciprocated. There are other cards which are more strongly associated with romantic relationship such as the 2 Of Cups, the 10 Of Cups or The Lovers. There maybe some reference here to the Christian symbology of the Holy Grail and it's promise of spiritual re-birth and immortality.
© Phuture Me Ltd 2010-2018. All rights reserved.
THE PICTORIAL KEY TO THE TAROT
By Arthur Edward Waite (1911)
The waters are beneath, and thereon are water-lilies; the hand issues from the cloud, holding in its palm the cup, from which four streams are pouring; a dove, bearing in its bill a cross-marked Host, descends to place the Wafer in the Cup; the dew of water is falling on all sides. It is an intimation of that which may lie behind the Lesser Arcana. Divinatory Meanings: House of the true heart, joy, content, abode, nourishment, abundance, fertility; Holy Table, felicity hereof. Reversed: House of the false heart, mutation, instability, revolution.
Related Tarot Cards
© Phuture Me Ltd 2018. All rights reserved.