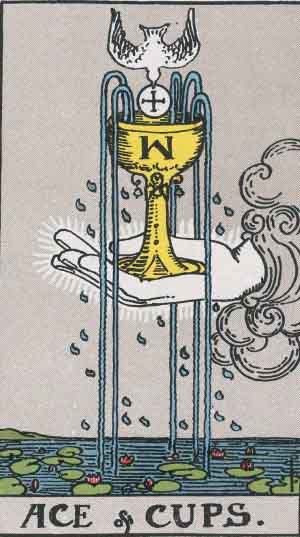 The Ace of Cups is traditionally represented as a single vessel filled with water. It's symbology is simple, it has the element of water and a numerological value of 1. As a 1 it represents a new beginning and, with water as the element, this beginning is an emotional one. The card more commonly heralds the coming of a new acquaintance or friend. Since 1's are, in numerology, singular it is unlikely to signify a romantic relationship. There are other cards which are more strongly associated with romantic relationship such as the 2 of Cups, the 10 of Cups or The Lovers. There maybe some reference here to the Christian symbology of the Holy Grail and it's promise of spiritual re-birth and immortality.
Other online descriptions of The Ace of Cups:


© Phuture Me Ltd 2010-2015. All rights reserved.