King of Cups Tarot Card Meaning & Interpretations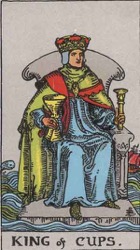 Court cards, like the King of Cups, are unnumbered which makes using numerology to unlock their basic symbology more challenging. On the surface we have the male ruler of the elemental domain of Water but not much else to go on. We can however link Tarot's Kings to their supreme ruler, The Emperor, which would give him a numerological attribute of 4 by proxy.
The same element and numerology is found in the 4 of Cups in which we see a young male, arms and legs crossed defensively, as he sits under a tree looking petulantly at 3 cups before him with a 4th being offered by a rain cloud.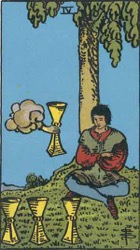 Perhaps past relationship issues have left this emotionally inexperienced youth guarded about engaging in any new relationships. The number 4 is symbolic of rigid structure, static and safe but its unchanging form can be also be stagnant and boring. The Rider-Waite-Smith (RWS) deck's King of Cups faces front with his head turned to the right, or east, representing the future. He sits in a safe and secure place on a throne on a solid, square, rock surrounded by a rough sea. His right foot forward almost as if he's prepared to "dip a toe in the water".
In contrast to the 4 of Cups youth the king is emotionally experienced and unafraid of the wild and deep emotional waters of life. This King can represent an emotionally experienced, well balanced and confident person. A shoulder to cry on, an understanding and sympathetic ear. Sensitive and understanding they would make a good counsellor.
The King of Cups is a mature* man whose vocation in life is related to the element of water (a fisherman, sailor, plumber etc.) or emotions (a counsellor, psychologist, actor etc). The symbolic relationship to this card may not be vocational. It could be a description of his personality. In this case this man will be a sensitive, caring, patient and perhaps even a gullible or innocent man. Sometimes it refers to a man who has feminine qualities or is highly intuitive or even psychic.
*maturity happens between ages 28 to 37, when a man enter's his 2nd numerological life cycle.
© Phuture Me Ltd 2010-2018. All rights reserved.
THE PICTORIAL KEY TO THE TAROT
By Arthur Edward Waite (1911)
He holds a short sceptre in his left hand and a great cup in his right; his throne is set upon the sea; on one side a ship is riding and on the other a dolphin is leaping. The implicit is that the Sign of the Cup naturally refers to water, which appears in all the court cards. Divinatory Meanings: Fair man, man of business, law, or divinity; responsible, disposed to oblige the Querent; also equity, art and science, including those who profess science, law and art; creative intelligence. Reversed: Dishonest, double-dealing man; roguery, exaction, injustice, vice, scandal, pillage, considerable loss.
Related Tarot Cards
© Phuture Me Ltd 2018. All rights reserved.