Five of Wands Tarot Card Meaning & Interpretations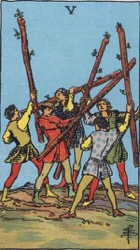 The 5 of Wands, 5 of Rods or 5 of Batons is a card of conflict, struggle, tension and problems in the home or work place. The element here is Fire which relates to home, community, work & creativity. The aspects of the number 5 in numerology are change, the unexpected, discard, unattachment, adaptability and freedom. Opposing forces, all conflicting, is the main theme of this card the solution is one of adaptivity, change and dealing with the unexpected.
© Phuture Me Ltd 2010-2018. All rights reserved.
THE PICTORIAL KEY TO THE TAROT
By Arthur Edward Waite (1911)
A posse of youths, who are brandishing staves, as if in sport or strife. It is mimic warfare, and hereto correspond the Divinatory Meanings: Imitation, as, for example, sham fight, but also the strenuous competition and struggle of the search after riches and fortune. In this sense it connects with the battle of life. Hence some attributions say that it is a card of gold, gain, opulence. Reversed: Litigation, disputes, trickery, contradiction.
Related Tarot Cards
© Phuture Me Ltd 2018. All rights reserved.