7 of Pentacles/Coins Tarot Card Meaning & Interpretations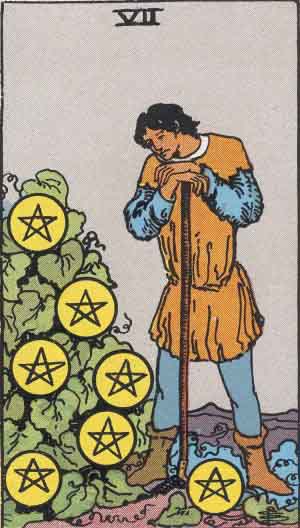 The 7 of Pentacles, or The 7 of Coins, is a card of rest from successful work, studying financial situation and prudent financial planning. The element here is Earth which relates to wealth and material possessions. The aspects of the number 7 in numerology are contemplation, reflection, thought before action, rest, withdrawal, introspection and research. As with all 7's the 7 of Pentacles advises thought before action, preparedness is the key to success. The imagery in the Rider-Waite-Smith Tarot is of a man resting from his labours contemplating the 7 Pentacles growing on his vegetation, it is a time to wait for growth and prosperity, not a time to interfere with what is already making good progress.
© Phuture Me Ltd 2010-2015. All rights reserved.