Ace of Wands Tarot Card Meaning & Interpretations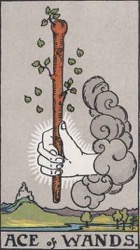 The Ace of Wands, Ace of Rods or Ace of Batons is traditionally represented as a single stick, or branch, standing, or being held, upright. It's symbology is simple, it has the element of fire and a numerological value of 1. As a 1 it represents a new beginning and, with fire as the element, this beginning has to do with the home, community or work. Surrounding cards should help in narrowing down which aspect of the home or work this beginning will occur. For example it could be a new job (responsibility, chore, project) or new home, sometimes it can mean a new addition to a home, a new family member. The element of fire and this suite of the minor arcana has an creative aspect. In this case the card could point to a new venture or enterprise or even simply the planting of a garden at home.
© Phuture Me Ltd 2010-2018. All rights reserved.
THE PICTORIAL KEY TO THE TAROT
By Arthur Edward Waite (1911)
A hand issuing from a cloud grasps a stout wand or club. Divinatory Meanings: Creation, invention, enterprise, the powers which result in these; principle, beginning, source; birth, family, origin, and in a sense the virility which is behind them; the starting point of enterprises; according to another account, money, fortune, inheritance. Reversed: Fall, decadence, ruin, perdition, to perish also a certain clouded joy.
Related Tarot Cards
© Phuture Me Ltd 2018. All rights reserved.