Numerology Personal Year 5
This is the year for freedom, travel, change, progress & the unexpected. Whatever you didn't get a chance to start in your 1 Personal Year you now have a second chance to begin in this year. This year you will want to run away from the burdens, restrictions and hard work of last years 4 Personal Year.
Travel somewhere if you can this year, a change of scenery will feel necessary. Make sure you go somewhere!
A 5 personal year or month is a good time to write a paper, article or book, to put knowledge acquired into print and have it published for the greater good.
5 is the number of sensual pleasures and sexual attraction and this year you will attract others. If you find someone this year it could develop into something more permanent next year in your 6 Personal Year.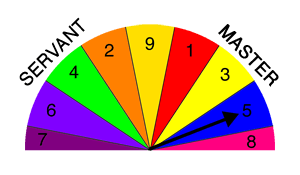 © Phuture Me Ltd 2010-2012. All rights reserved.
Tarot Cards with Numerology of 5
The symbolism of Tarot, in particular the Rider-Waite-Smith Tarot deck, matches the numerology of its card's number and this can be a very useful visual reference for divining the meanings of a 5 Personal Year
© Phuture Me Ltd 2019. All rights reserved