Numerology Personal Year 8
Whatever you have been doing for that last several years this is the year in which you should be reaping the rewards. This is the year your ship will come in if it is to come in at all.
8 is the number of fertility, if you are a woman and you have been trying for a child this year will be a good year to conceive.
This year could be likened to the season of late summer early autumn when harvesting happens. If you have worked hard, planned well with luck on your side the rewards of the harvest of this year will be plentiful.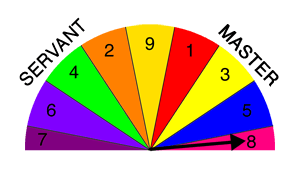 © Phuture Me Ltd 2010-2012. All rights reserved.
Tarot Cards with Numerology of 8
The symbolism of Tarot, in particular the Rider-Waite-Smith Tarot deck, matches the numerology of its card's number and this can be a very useful visual reference for divining the meanings of an 8 Personal Year
© Phuture Me Ltd 2019. All rights reserved