Lenormand Scythe Card Meaning & Combinations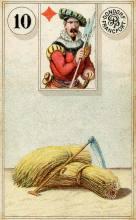 10 Scythe
Quick hit: Cut, accident, surgical, sharp
Quality: Negative
Timing: Ten days, weeks, months, the 10th of the month, October; sudden, surprising, unexpected
Detail: The Scythe is a sharp card. Its blade cuts, severs, separates or harvests. It can point to accidents, peril or threats. It can represent surgery or even computer hacking. It's abrupt and sudden.
Compare: Compare the severing of Scythe to the ending of Coffin.
Sample Scythe Combinations:
An upcoming surgery
Your sharp-tongued aunt is on her way to visit
It looks like you may loose your job
Your surgery presents some risk
Your sweetie's words cut you, but only a little
Your dentist has a knack with her instruments
That imported Japanese Damascus steel blade you ordered is in transit
A dangerous trip abroad
A military ship
An eviction
Your roommate is full of surprises
You suddenly find the house you've been looking for
Your health changes dramatically
A long term separation
You cut your tree down since it's ailing
He will lash out in confusion
Her decision to break up leaves you utterly confused
Watch out for lightening!
A pit viper
Surgical complications
The other woman quickly destroys their marriage
The separation ends as suddenly as it started
A boxed knife set
The danger passes
Cut flowers
Flirting with danger
A gifted surgeon
Sharp criticism
A dividing conflict
An accident while exercising
Gossip about layoffs
An abrupt tweet
A dangerous pair
A miscarriage
A troubled child
A minor procedure
A dangerous ploy
An unethical surgeon (he's in it for the money)
She took everything in the divorce
Your mother-in-law is bent on breaking you two up
Jealousy that cuts to the bone
Sudden weight gain
An aspiring surgeon
The dark web
Being threatened
Your surgery leads to improvement
A difficult pregnancy that threatens the mother
Their separation was better for both of them
A dangerous ally
A violent dog (sharp teeth!)
Your accident has permanent ramifications
A surgical hospital
A cost-cutting consulting firm
That building is a danger - it looks like it'll tip right over
A heart surgeon's association
A dangerous gang
That peaceful march will turn into a riot
You intervene to prevent that elective surgery
Someone stands up for you
Your promotion is withdrawn as soon as it's offered
An ultimatum
A crisp decision maker
You choose to leave her
Unhygienic surgical practices
The relationship goes from beautiful to sour very rapidly
Your anxiety attacks are ruining your life
Heart surgery
A one night stand
A dangerous romance
A divorce decree
A contract that may not be in your best interest
He's committed to threatening them
Surgical school
Unpleasant secrets
A seasoned hacker
Concise tweets
Results from your exploratory surgery
A surprise bill
A male surgeon
An abrupt man
An unpredictable man
A female surgeon
An abrupt woman
An unpredictable woman
A tenured surgeon
Being forced into retirement
She's dangerously serene (what is she up to?!)
Suddenly seeing the light
Instant success
Dangerously optimistic
A dangerous reputation
A career in surgery
Accidental recognition
Surgery is the solution
Sudden change is certain
Separation is the right choice
Sudden wealth (or loss of it)
Becoming addicted after trying it just once
In vitro fertilization
A sudden attachment
Unpleasant work
Losing one's job
That accident causes problems for life
He throws you off guard by suddenly converting to another religion
You cut yourself with a cooking knife and spend the rest of the week in agony.
© Petra Gilbert & Phuture Me Ltd 2016-2019.

This work is licensed under a Creative Commons Attribution-NonCommercial 4.0 International License.