Lenormand Stars Card Meaning & Combinations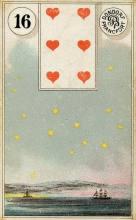 16 Stars
Depending on position, the card may take a noun (person, place or thing) or descriptive meaning (such as an adjective). Both examples are provided. The cards can also be very literal, so literal meanings, if applicable, are provided as well.
Quick hit: Hope, guidance, spreading, networking 
Quality: Positive
Timing: Sixteen days, the 16th of the month; deep night 
Detail: The Stars card indicates positive changes, clarity or success (think movie star). It can indicate guidance or navigation. This card also represents aspirations, hopes or longings. The card can point to networking, the Internet (literally, a network) or spreading out.
Compare: Compare the Star's success to the Moon's reputation.
Sample Stars Combinations:
16 Stars + 14 Fox = Mislead
16 Stars + 27 Letter = Lenormand (or Tarot) guidance
16 Stars + 5 Tree = Long-term success
© Petra Gilbert & Phuture Me Ltd 2016-2019.

This work is licensed under a Creative Commons Attribution-NonCommercial 4.0 International License.