Lenormand Bear Card Meaning & Combinations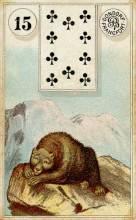 15 Bear
Depending on position, the card may take a noun (person, place or thing) or descriptive meaning (such as an adjective). Both examples are provided. The cards can also be very literal, so literal meanings, if applicable, are provided as well.
Quick hit: Power, official, overbearing, paternal 
Quality: Neutral
Timing: Fifteen days, the 15th of the month 
Detail: The Bear is strong and powerful and can represent authority. It also represents aspects of the financial world, such as investments. Behavioral qualities include jealousy or being overbearing and parental (mothering). For work, the Bear is your boss. Because of the Bear's eating cycles, this can also mean an obese person or someone with eating issues.
Compare: Compare the investments of the Bear to the assets of the Fish.
Sample Bear Combinations:
A new boss
Your mother-in-law is coming for you (better run!)
As you feared
The bureaucrat had little influence
Your investments had a small positive gain this quarter
The mafia boss' court hearing may go well
An international financier
International stocks
A visit from your mother-in-law who lives abroad
A big body
Your mother-in-law lives with you
Jealousy in the family
Robust health
He's governed for a long time
A food addiction affecting your health
Your boss has no idea what she's doing
Having no idea where to invest your savings
A parent with Alzheimer's
Her in-law is malicious
Your boss doesn't have your back
Huge complications
For some reason, your in-law is finally backing off
Your boss gets canned
A bully gets stopped in his tracks
A talented investor
A welcoming in-law
Coming to happy terms with one's ample proportions (body self-love)
Dramatic weight-loss
Your boss is suddenly fired
New leadership slashes headcount
A nagging in-law
A micromanager
Your worst critic
She's twice as overbearing
Your boss is a gossip
He's nervous about the re-election
A newly elected official
He's an immature bully
A new resource comes to light
You can't trust that politician
Your in-law is lying to you
Deceiving yourself about your weight problem
The company's new CEO is a visionary
A leadership network
Your relationship with your in-law will improve
A foster mother
A charismatic self-help guru
Your investments will do better this quarter
Your in-law isn't going anywhere
A loyal boss
An official who keeps getting re-elected
A CFO
A hospital administrator
A firm's investments
Overeater's anonymous
A business leadership networking event
Publicly-traded investments
Making it more difficult for bullying
Long-term investments
Your boss is trying to change things but it's just not happening
A financial advisor
A slippery politician evades arrest
Your in-law isn't sure about you
Weight loss
Undermining his authority
Taking someone's personal power
A big-hearted person
Your in-law is too emotional
Head of the cardiac association
A contract you can't seem to get out of
A huge commitment
An investment agreement
The head professor
Leading by the book
Financial secrets
The U.S. president tweets regularly
A powerful message
Your in-law's influence is evident
A male investor, a male in-law
A male guardian
A female investor, a female in-law
A female guardian
An elder statesman
Her bark is much louder than her bite
A matriarch committed to peace in her family
Your investments are soaring!
A very successful leader
Huge success
She has a maternal reputation
Your boss is moonlighting
A reputable politician
A powerful solution
A big yes
An investment expert
Prosperous finances
Too many cooks in the kitchen
Seriously overbearing
She never stops mothering him
Weight that won't budge
Secure investments
Your mother in-law is a huge pain
Overbearing to the point of causing strife
A religious official
© Petra Gilbert & Phuture Me Ltd 2016-2020.

This work is licensed under a Creative Commons Attribution-NonCommercial 4.0 International License.