Lenormand Whip Card Meaning & Combinations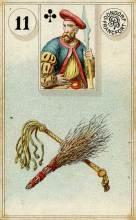 11 Whip
Depending on position, the card may take a noun (person, place or thing) or descriptive meaning (such as an adjective). Both examples are provided. The cards can also be very literal, so literal meanings, if applicable, are provided as well.
Quick hit: Chronic, sex, critical, argumentative 
Quality: Negative
Timing: Eleven days, weeks, months, the 11th of the month, November; repetitive 
Detail: The Whip card is also called the Birch Rod or Broom. It speaks to repetitive acts, such as ongoing criticism, conflicts or disputes. More lightly, it may indicate a passionate discussion. It can also refer to sex or repetitive athletic activities. Note that some schools rely on the Lily card to mean sex instead.
Compare: Compare the repetitive nature of Whip to the fleeting nature of Clover.
Sample Combinations:
11 Whip + 7 Snake = Constant trouble
11 Whip + 4 House = House shopping
11 Whip + 12 Birds = Heated discussion
© Petra Gilbert & Phuture Me Ltd 2016-2019.

This work is licensed under a Creative Commons Attribution-NonCommercial 4.0 International License.