Lenormand Crossroads Card Meaning & Combinations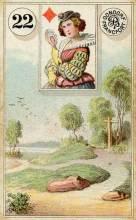 22 Crossroads
Depending on position, the card may take a noun (person, place or thing) or descriptive meaning (such as an adjective). Both examples are provided. The cards can also be very literal, so literal meanings, if applicable, are provided as well.
Quick hit:  Decision, evaluation, choosing, avoiding 
Quality: Neutral
Timing: Two weeks, months, the 22nd day of the month; temporary 
Detail: The Crossroads represents the many choices we face. It can represent a decision already made or indecision, whether by waffling back and forth or paralysis. This card may represent two of something as well.
Compare: Compare the indecision of Crossroads to the certainty of the Anchor.
Sample Crossroads Combinations:
22 Crossroads + 21 Mountain = Unable to decide
22 Crossroads + 2 Clover = Lucky choice
22 Crossroads + 36 Cross = Regretted decision
© Petra Gilbert & Phuture Me Ltd 2016-2019.

This work is licensed under a Creative Commons Attribution-NonCommercial 4.0 International License.