Lenormand Crossroads Card Meaning & Combinations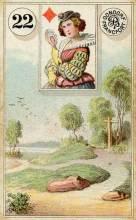 22 Crossroads
Depending on position, the card may take a noun (person, place or thing) or descriptive meaning (such as an adjective). Both examples are provided. The cards can also be very literal, so literal meanings, if applicable, are provided as well.
Quick hit:  Decision, evaluation, choosing, avoiding 
Quality: Neutral
Timing: Two weeks, months, the 22nd day of the month; temporary 
Detail: The Crossroads represents the many choices we face. It can represent a decision already made or indecision, whether by waffling back and forth or paralysis. This card may represent two of something as well.
Compare: Compare the indecision of Crossroads to the certainty of the Anchor.
Sample Crossroads Combinations:
You'll be faced with an upcoming choice
You need to make a decision about where you get your news
You really need to decide between your lovers
A small decision
A decision that doesn't have much risk
You have to decide if you're going to Italy or not
You can't figure out which shipping company to use
You and your husband keep fighting about which furniture to choose
You can't decide if you want to live with your parents or not
She keeps making healthy decisions
This decision is going to have deeper implications over the longer-term
She just couldn't see clearly enough to make any kind of decision
Well it's for the better, leaving her left him quite depressed
This decision has long and winding implications
He's trying to decide if he should buy her a bracelet or not
A break up in a relationship
Quitting a job
She can't decide whether or not to invite him to her party
He felt undecided about his gift
Dad isn't sure it would be good to get that surgery
She's trying to figure out if she should break up quickly or do it over time
Well exercising all the time seems like a good idea, he never could decide if he should do it or not
She's extremely indecisive and goes back and forth
He couldn't decide if he like them as a couple or not
While she really loved to gossip, she was trying to decide if it was the best thing to do
Their son just wouldn't behave so they were trying to decide the best approach for discipline
Choosing to have another child
A small decision
A clever choice
Being manipulated into making a decision
He made the choice because it was the only way to survive
Voting for an elected official
A decisive boss
Wanting to make choices that improve your life
Being inspired to make a decision about your friends
Wanting to become pregnant
Choosing to relocate
Make this choice carefully because there's no going back
Picking out a dog at the shelter
Making a decision to move your career forward
The company decides to acquire another company
While you've been invited to that group, you're not sure if they're for you
Every time the two made a decision, they were like minded about it
Instead of making a decision that would be better for her, she made a decision to hold her friend back instead
By taking that job, it meant his career path was over
Her decision had a bad effect on him and ruined him
Making that choice really worried her
Making an emotional decision
Trying to figure out if he should make choices to be happy or practical
Deciding to sign a contract
She declined his marriage proposal
Choosing to keep a secret
Picking the best school for your education
She regrets deciding to send that text
Well she got the prescription she's not sure if she should take it or not
An independently minded man
A flighty man
A male life coach
An independently minded woman
A flight tea woman
A female life coach
The decision gave you a great sense of peace
Deciding to be very discreet
Being positive was a decision she made every day
Figuring out where to go on a holiday
The choices you make now will affect your reputation over the longer term
A public decision
This decision is extremely important
Choosing to say yes
The day was so bad, she decided to get drunk after work
Deciding to liquidate all of your assets
It really frustrated him that all of her decisions were about security
Deciding to stick together for the long-haul
Deciding to be strong in the face of a challenge
Choosing to go into the seminary
© Petra Gilbert & Phuture Me Ltd 2016-2022.

This work is licensed under a Creative Commons Attribution-NonCommercial 4.0 International License.