Lenormand Book Card Meaning & Combinations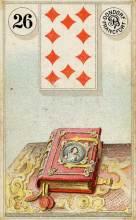 26 Book
Depending on position, the card may take a noun (person, place or thing) or descriptive meaning (such as an adjective). The cards can also be very literal, so literal meanings, if applicable, are provided as well.
Quick hit: Secret, knowledge, educated, mysterious or literally, a book 
Quality: Neutral
Timing: Twenty-sixth day of the month; unknown 
Detail: The Book originally referred to a grimoire or book of magic, and so secret is one of its meanings. It can also stand for mysterious. More practically, the Book can represent learning, educational, informed or knowledge. Literally, it can mean a book.
Compare: Compare the secret of the Book to the obscured quality of Clouds.
Sample Book Combinations:
26 Book + 9 Bouquet = Fairy tale
26 Book + 14 Fox = Secretive deception
26 Book  + 29 Man = Male scholar
© Petra Gilbert & Phuture Me Ltd 2016-2019.

This work is licensed under a Creative Commons Attribution-NonCommercial 4.0 International License.