Lenormand Key Card Meaning & Combinations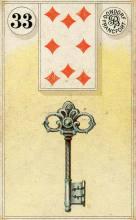 33 Key
Depending on position, the card may take a noun (person, place or thing) or descriptive meaning (such as an adjective). Both examples are provided. The cards can also be very literal, so literal meanings, if applicable, are provided as well.
Quick hit: The key, solution, unlocked, certain, enlightenment
Quality: Positive
Timing:  Now 
Detail: The Key represents the solution or key to a situation. It shows access and insight. It may also point to something pivotal or certain. The Key may indicate an opportunity or that something has been unlocked.
Compare: Compare the Book's knowledge to the Key's insight.
Sample Key Combinations:
33 Key + 12 Birds = Important conversation
33 Key + 22 Crossroads = Pivotal decision
33 Key + 28 Gentleman = Important person
© Petra Gilbert & Phuture Me Ltd 2016-2019.

This work is licensed under a Creative Commons Attribution-NonCommercial 4.0 International License.