Lenormand Tower Card Meaning & Combinations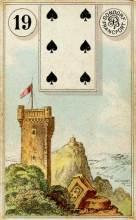 19 Tower
Depending on position, the card may take a noun (person, place or thing) or descriptive meaning (such as an adjective). Both examples are provided. The cards can also be very literal, so literal meanings, if applicable, are provided as well.
Quick hit: Corporation, institution, authority, isolated, tall or literally, a building/tower 
Quality: Neutral
Timing: Nineteen days, the 19th of the month 
Detail: The Tower stands for big businesses, such as corporations, the government, universities or hospitals. It can also indicate solitude or seeing things from a higher perspective. More literally, this card stands for tall, high or a building.
Compare: Compare the Tower as a corporation to the Ship as commerce.
Sample Tower Combinations:
19 Tower + 5 Tree = Long-standing company
19 Tower + 25 Ring = Law firm
19 Tower + 8 Coffin = End of isolation 
19 Tower + 7 Snake = An infestation of a building or home (Mice, rats, wood worm, wasp nest etc)
© Petra Gilbert & Phuture Me Ltd 2016-2019.

This work is licensed under a Creative Commons Attribution-NonCommercial 4.0 International License.